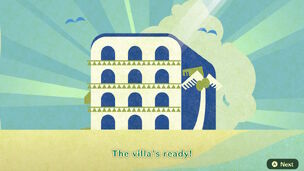 After defeating the Darker Lord (aka "Great Sage", The Darkest Lord), the Villa will be open. In addition, 5 Mii characters will move in to the Villa. This will make room for 5 extras to stay at the Inn.
The Villa
The Villa allows the player to modify the party in any way they like, such as moving a Mii to the Inn or Villa, swapping a Mii with someone in the Inn and villa, or ditching a Mii.
Features
Because the Villa is big enough for 90 people, a total of up to 100 Miis can be companions in the game, with 10 at the Inn and 90 at the Villa. The player can also sort Miis between the Inn and the Villa.
How to access the Inn and Villa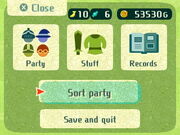 Once the villa opens, the player can sort the party while at an Inn any time by selecting "Sort party" in the menu. Note that if the party happens to be split from falling rocks, the player is unable to access the Villa until the party is reunited.
Moving a Mii to the Inn/Villa
A Mii can move in to the Villa or Inn at any time. However, if the Inn in full or the Villa is full, a Mii cannot move there and must be swapped with another Mii living where they want to go in order to move in.
Swapping a Mii with another
Another feature is the ability to swap two Miis with each other's spots. This allows a Mii in the Inn to swap with a Mii in the villa.
New friend
This option allows creation of a new Mii to become the protagonist's traveling companion.
By default, the created Mii will move into the Inn. However, if the Inn is fully booked, the Mii will be forced to stay at the villa.
Up to 99 (excluding the protagonist) Miis can be saved as traveling companions.
Ditching a friend
This option allows the player to say goodbye to a traveling companion forever.
By ditching a Mii, it is not possible to get them back or get their data back.

Please be careful while deleting such data, as it cannot be restored.
Though interestingly, it will still keep the "teammate"-based monster's face it was attached to before the associated Mii was ditched.

Only Miis at the villa can be ditched.
The protagonist cannot be ditched. If the player attempts to do so, it will fail with the error, "You can't ditch yourself! You need you!"