Guy who has too much free time. Works with my buddies who take screenshots of their gameplay in Citra, who then send them to me for uploading. Also made most of the fancy Navboxes you see everywhere. Feel free to ask me questions, I'll probably answer!
(Sorry powerwing I didn't know how to do this kind of thing so I'm borrowing the template you made please don't kill meeeeeee)
Protagonist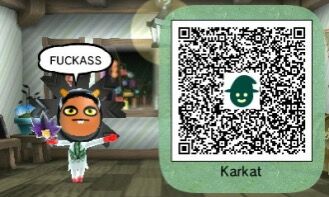 Previous Forms:
Karkat Vantas (AKA carcinoGeneticist) is the self-proclaimed "leader" of the trolls, a group of 12 alien teenagers who are also the last of their kind... ...or are they? TYPES IN ALL CAPS AND PEPPERS SPEECH WITH FREQUENT SWEARS.
Being a troll with a rare genetic disorder that gives him red blood, Karkat is eternally cranky, and at first glance often appears to be rather bossy, vulgar, and rude. Looks can be decieving though, because deep down, Karkat truly cares about his friends and will do anything to help them back up when they fall down. Because of this, he has the strongest overall relationships out of the entire party. As for why he's a flower, it's not exactly known.
Greenhorne Heroes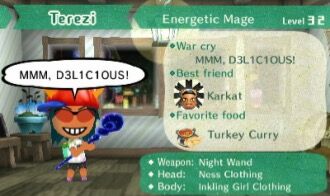 Terezi is a troll with teal blood who lost her sight at a young age, when Vriska tricked her into staring directly into her home planet's sun. This handicap seems to have helped though, as it has given her an increased sense of smell and can still move around and type just fine. TYP3S 1N 4LL C4PS 4ND R3PL4C3S A'S, E'S, 4ND I'S WITH 4'S, 3'S, 4ND 1'S R3SP3CT1V3LY.
Being a mage, Terezi packs some of the strongest punch out of the entire party. Able to take out small legions of enemies with ease using explosive magic, her only drawback is her slight lack of HP which makes her a little more fragile than the rest of the party. She is able to circumvent this somewhat with her barrier technique, and although she can't easily recover her own HP, her energetic tendencies will make sure the rest of the party has plenty of their own!
Tavros is a troll with bronze blood who, like Terezi, was also crippled by Vriska, this time breaking legs and forced to use a wheelchair. He did eventually get himself a pair of robot-legs though, which we'll assume he's using for this adventure. tYPES IN ALL CAPS SANS THE FIRST LETTER OF EACH SENTENCE,,, uSES COMMAS IN THE PLACE OF PERIODS AND ELIPSES,
Despite handicapping him in a wheelchair, Vriska is still very much Tavros's closest confidant. Both are willing to sacrifice themselves for each other, and his relationship with Serket allows him to boost his relationships with the rest of the team via Love Song. Tavros's rap skills from Homestuck carry over here into Miitopia, where he can entice his enemies with smooth lyrics, or start fires so sick that no one can handle the heat! He has a kind heart, although he isn't exactly the sharpest tool in the shed, sometimes opting to play with the enemy team or nap in the middle of battle.
Gender: Male
Age: 20
True Species: Nidorino
Jace Hemlock is an OC my friend Rachael created back in 2012 for the now-defunct deviantArt Pokemon group, the same one Morgana was in. However, unlike the group, Jace is still active today. He's a very sweet, kind and gentle anthro nidorino who loves to play guitar and sing, although he wasn't always like this. He used to be very nervous, whiny and broody, not to mention a huge brat that hated the world and wanted everyone to stay away from him. He dressed in a stereotypical emo fashion and did the stereotypical emo things. However, when he met Morgana, he instantly fell in love with her. Although the two of them had a bit of a rough start, they eventually got to know one another and wound up attached to the hips. Jace eventually became a better person, although he kept some pretty weird quirks, like having an obsession with skulls and other spooky things. He still continues to dress emo-like, but he's wearing less makeup and looser pants at least. He and Morgana are currently engaged and working together in the veterinary business. He hopes they can have lots of kids in the future. Jace also does his singing and guitar play with his friends on the weekends when they have free time.
In Miitopia head-canon, Jace is busy playing a gig when he gets a call from Morgana telling him she has someone to assist. Never wanting to leave his fiancee's side, Jace drops everything to get to the inn Morgana said she would head to next. After that, he joins her and Pw Amber's party on their quest to defeat the Dark Lord. He's very sensitive emotion-wise and not very strong, but his golden voice is very helpful for support... as long as he's not being a brat.
As of now, Jace prefers to hang around Pw Amber, Quinn and especially Morgana, of course. Although, he's supposed to be the main man for dispelling quarrels, he's also constantly in midst of them, despite his Kind nature. Whether it's due to taking things too seriously, going easy on enemies, his weak stomach being force-fed spicy food, or just going into brat-mode, he seems to be fighting with someone at least once per region. Baeset and Blaze seem to be the common targets. Thankfully, these episodes don't last very long. He's also extremely picky with grub, making it difficult to raise his stats.
Read more about Jace here:
Offsite Link
Neksdor Heroes
Gender: Male
Age: ??
True Species: Hedgehog
Vex is a fan-character my friend Rachael created in 2005, or sometime around then. He's a third generation Shadow the Hedgehog clone originally known as Project Shadow Mach III. I can't explain most of his history since my friend can't seem to remember it. All I can recall is, at some point, Vex was brought to Pw Amber's island where he could be protected and rehabilitated. It was extremely rough for the first couple months as Vex suffered from violent mood swings, PTSD and physical pain in general. Eventually, the Shadow clone managed to slowly recover and warm up to those around him. He and Pw Amber became surprisingly close along with Vex gaining a very loving, curious, excitable, almost child-like, but still a bit amorous personality. He no longer worries about proving himself to be better than the original Shadow or his clone 'brothers' and is more focused on making himself more unique. He's more prone to doing silly, unpredictable things and has a much more positive outlook of the world.
In Miitopia head-canon, Vex begins to worry when Pw Amber doesn't return home for almost a week and doesn't call. So, he quickly goes on a blind search for her. He speaks with various NPCs and manages to follow her trail of defeated monsters to eventually find her at an inn in Neksdor not too long after her original Greenhorne Team were kidnapped by the Dark Lord. Although her new Imp form shocks Vex after a minor misunderstanding, the two of them have a happy reunion and team up to not only take on the Dark Lord, but save Pw Amber's new friends as well.
As of now, Vex has been a very useful member of the team. His multi-attacks are surprisingly strong and he's the fastest character in the game. He's also Pw Amber's primary go-to for Butt Jab. Strangely, he's only used his thieving skills once and really late in the game. Vex very rarely gets into quarrels and when he does, he makes up quickly. He's not very picky with grub and is one of the three teammates that actually likes Goblin Ham! He's close to Blaze, Jinga and especially Pw Amber. While he and Pw Amber might have a thing going on, he had an uneasy crush on Jinga for a short time, which the firecat didn't reciprocate.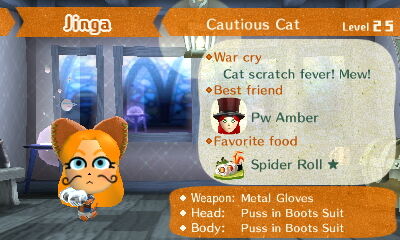 Gender: Female
Age: ??
True Species: Mecha Firecat
Jinga Mettomb Ra is actually an OC of mine I created back in the 90's, or so. I can't seem to remember. She was inspired by Luna from Sailor Moon and Ryo-Ohki from Tenchi Muyo, but ended up being her own character. Jinga is Pw Amber's somewhat-trusted battle partner and mascot. She can take on many forms such as a small fireball with a face, to a cute catgirl, to an almighty flying firelion mecha! However, she prefers to stay in a feral firecat form, as that's most comfortable for her. Jinga is highly intelligent and kind, albeit she has a slightly high opinion of herself and can occasionally get bossy. However, she's a huge coward and ultimately hates confrontation. Despite her strength, Jinga prefers to run and hide, rather than fight. She can be roused to battle if someone she cares for is in serious trouble, or she's tempted with fish.
In Miitopia head-canon, Jinga notices Pw Amber is missing, but unlike Vex, she waits a few more days just to make sure no one's jumping the gun. After a few days of tracking, she eventually finds the duo in another inn and reluctantly adds herself to the team. She doesn't like the idea of having to fight a Dark Lord, especially considering who he is, but the firecat knows Pw Amber will not rest until he's defeated and her friends rescued. So, Jinga figures the sooner they get this over with, the sooner they can go home.
As of now, Jinga's been a very powerful member of the team. With her Cat-based attacks, she can take out almost any enemy with ease... as long as she's not wasting a turn Warming Up, Sharpening her Claws, or Stealing Grub. Since she's Cautious, she tends to keep a low profile and tries not to cause trouble. She seems to have a crush on Sonic, but is too shy to tell him; plus, she knows Blaze likes him too and doesn't want to compete with her. She's close to Pw Amber, Vex and Muta, although Vex and Muta can at times make her nervous. She's only gotten into one quarrel, but it was a violent one and with Muta of all Miis! Thankfully, they made up and their friendship has deepened since then.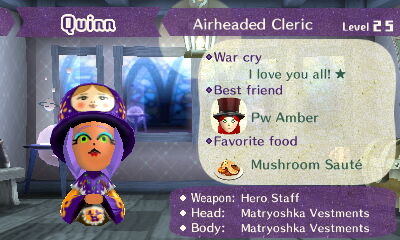 Gender: Female
Age: 18
True Species: Arbok
Quinn Salabog is another OC of mine I created back in 2014 for the now-defunct deviantArt Pokemon group, the same one Morgana and Jace were in. Unlike those two, Quinn's currently on hiatus. She's a very kind, girly, ditzy and sweet anthro arbok who used to live on an isolated tropical island with other serpent pokemon. This turned her into a very sheltered girl who had no idea how the modern world worked. Even now, she still struggles to maintain a normal life on the mainland, but due to her size, species and low-street smarts and book smarts, it's been very difficult. She's also very love sick, a hopeless romantic, if you will, who pines for love and marriage, but can't seem to find a boy who will stick with her for long. Still, she tries her best with both and has faith that someday fate will smile upon her.
In Miitopia head-canon, Quinn happens to be in Neksdor and accidentally stumbles across Pw Amber and her ragtag crew. After speaking with them and finding out their quest, Quinn asks if she can come along to help them. She's been practicing medicine and healing magic and really wants to prove herself useful to someone in the world, and maybe her heroism might attract a cute boy her way. She also no longer wishes to travel alone, so she pretty much becomes a team member whether they wanted it or not. Thankfully, they all did.
As of now, Quinn has been a very versatile character. Her healing magics are invaluable and she's surprisingly strong with attacks and extremely resistant to blows. Her Airheadedness has been more of a blessing than a hindrance and makes her look adorkable in the process. She's very close to many of the team members, but she's especially close to Pw Amber, Jinga and Blaze. She's had the occasional quarrel, but it never lasts long. Most of the time, she's the one to prevent quarrels from occurring. She's very maternal, always wanting to make sure her friends are happy and healthy. She makes sure to give good gifts and visit those who become sick.
Read more about Quinn here:
Offsite Link
Realm of the Fey Heroes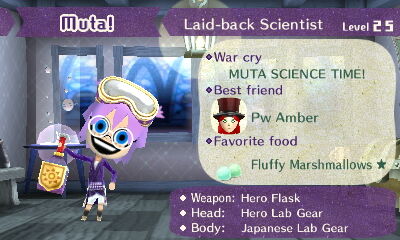 Gender: Female
Age: 19
True Species: Glameow★
Muta Lacarde is another OC of mine I created back in 2013 for the now-defunct deviantArt Pokemon group, the same one Morgana, Jace and Quinn were in. Although her character is on a semi-hiatus, there's plans to bring her back, at least in a non-canonical sense. So... how to describe Muta? To put it bluntly, Muta is a very loud, intelligent and crazed glameow whom loves to speak in the third person and is also quite eccentric. She likes to babble on and on about scientific things and typically will insert bits of bragging about her own genius while she's at it. She puts nearly all of her own opinions and facts on the highest pedestal possible and can't help but correct others if they say something she feels is wrong. Of course, some of Muta's babblings and actions might not seem right to most, due to how insane they tend to be, but the glameow insists everything she says and does is 100% correct!
Also, to put things in a more frightening perspective, Muta is a glameow that CANNOT be trusted! She's a very psychopathic, sociopathic, uncaring and unethical scientist that will do ANYTHING to achieve her goals. She loves science as much as she loves herself and will dedicate any of her causes to one or both. She's very much a loner, preferring to work with her experiments and machines. However, if she begins to take interest in you, even the slightest bit... BEWARE! She's very manipulative and might either see you as a threat to eliminate, or a tool to further her own agenda. By all accounts, Muta should be a super villain, but there's a certain something that hasn't pushed her over the moral event horizon yet... Maybe there's something or someone out there that could change Muta's heart and use her genius and abilities for the pursuit of the greater good, but so far, nothing has worked.
In Miitopia head-canon, coming soon.
As of now, coming soon.
Read more about Muta here: Offsite Link
Gender: Male
Age: 19
True Species: Hedgehog
Sonic the Hedgehog is, well... Sonic. (More coming soon.)
In Miitopia head-canon, coming soon.
As of now, coming soon.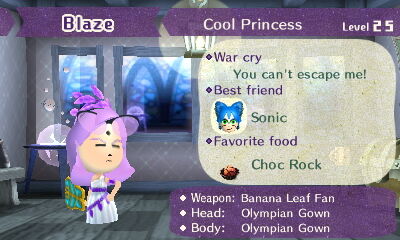 Gender: Female
Age: 18
True Species: Cat
Blaze the Cat is, well... Blaze. (More coming soon.)
In Miitopia head-canon, coming soon.
As of now, coming soon.