Hello there! Names's Jewelraffe! I love this game and I hope you enjoy yourself here!
I also use Discord. My name is Jewelraffe#8264 so you can verify it's me :P I have a Pingas icon.
Characters
We know what you're here for, to see what lunatics populate my inns. Here you go
Heroes
CDI Link, the hero. (Currently Cool Elf)
Robin (Fire Emblem) the Cautious Mage
T-Rex (Prehistory) the Airheaded Cleric
Waluigi (Mario) the Cool Thief
Neksdor
Mewtwo (Pokemon) the Laid-back Scientist
Dolan (Internet) the Energetic Cat
Mettaton (Undertale) the Kind M-Pop Star
Fey Realm
Peach (Mario) the Cool Princess
Ike (Fire Emblem?) the Energetic Imp
Flowey (Undertale) the Cautious Flower
Postgame
Ganondorf (Zelda) the Stubborn Vampire
Morshu (CDI) the Stubborn Tank
Ackbar (Star Wars) the Kind Chef
Gandhi (History) the Kind Cleric (Recruited from quest)
Others
Great Sage Gwonam (CDI)
King Harkinian (CDI)
CDI Zelda, in love with Luigi and rejected Bowser Jr.
Villains
Dark Lord Pingas
Genie Morshu2
2 Morshu the Ally was made postgame when I forgot about this guy. Too lazy to fix and it fits him.
For the curious: My name's a portmanteau of Jewel + Giraffe.
Also...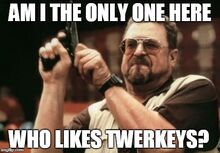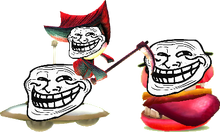 Twerkey Reaction Favorites