This page uses data from the Miitopia Param Info spreadsheet, compiled by PibPasquale, Kobazco, and UglyFrenchFry.

The Tomato Bros (Japanese: トマト三兄弟 Tomato San Kyoudai; Three Tomato Brothers) are a mini-boss found in the third main area of Miitopia, Realm of the Fey. It resembles a stack of three of the oddly-shaped tomatoes found while traveling in said area. The boss takes the faces of the three Fab Fairies Fans from the Elven Retreat. They are similar to Cacti Stacks.
Appearance
This monster consists of a stack of three sentient tomatoes, each colored differently. The largest tomato at the bottom is red, the shortest tomato at the middle is orange, while the top is green. Each of them has a Fab Fairies Fan's face on it.
Quest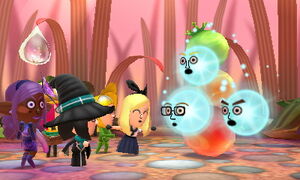 After the Dark Lord's surprise attack on the Elven Retreat, the player has to recover the stolen faces that are scattered around Realm of the Fey.
The Fab Fairies Fans have their face stuck on this monster, which is located in a stage in West Realm of the Fey.
Fab Fairies Fan 1: Woah!
Fab Fairies Fan 2: Waah!
Fab Fairies Fan 3: Hoaw!
Defeating this monster will free their faces and earn you Fey Jewel A.
Restoring the Fab Fairies Fans' faces will reward you with some Gold.
Actions
| Action name | Description | Chance to use | Hit rate |
| --- | --- | --- | --- |
| Wide Attack | The Tomato Bros quickly roll into a party member, damaging him/her, as well as other party members adjacent to him/her. | 60% | 100% |
| Tomato | The Tomato Bros spit tomato juice at a party member. This attack can either damage that member (with the caption "[Affected Mii] hates tomatoes!") or heal them for around one-third of the damage they would have otherwise taken (with the caption "[Affected Mii] loves tomatoes!") | 40% | 100% |
| One More Time! (auto) | Attacks three times per turn. | - | - |
Enemy statistics
Trivia
Like the Cerberus, this mini-boss has three Mii faces and attacks 3 times a turn, but does not have a Mii name in its name.
Gallery
See also