This page uses data from the Miitopia Param Info spreadsheet, compiled by PibPasquale, Kobazco, and UglyFrenchFry.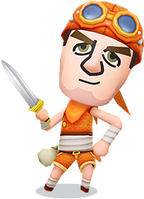 Swift as the wind, with a repertoire of skills designed to confound enemies.
-Job Description
About Thief
The Thief is a Job in Miitopia that focuses on area-of-effect damage and enemy disruption. With extremely high Speed and decent HP and MP, the Thief is the party's confounder of enemies and stealer of snacks alike. The Thief's default attack hits all enemies, but the strength progressively weakens as it goes down the line.
Stats
Lv. 1
Lv. 50
Best Equipment
Max Grub Stats
Maxed Stats

(Lv. 50 + Equipment + Food)

HP
10
208
+99
357
MP
8
164
+99
182
Attack
8
71
+190
+99
351
Magic
7
185
+99
181
Defense
5
67
+207
+99
399
Speed
11
108
+99
219
Attacks & Skills
The Thief's default attack is melee multi-target only.
Skill
Learned
MP Cost
Description
Attack multiplier
Activation chance (AI)
Extra Notes
Booby Trap
Lv. 3
2
"Place a trap before you to interrupt and counter an enemy attack.''
-
15%
Only protects against close-up attacks; long ranged attacks will still hit. Damage done by the trap is relative to the Mii's Attack.
Pilfer
Lv. 5
3
"Attempt to steal snacks from enemies. Doesn't always work."
-
100%
Obtain HP Banana or MP Candy from the enemy. If the Thief has 3 snacks on them already, you won't be able to use this skill. This skill doesn't work on enemies that have already been stolen from.


If a Mii uses Lend a Hand, the Thief will steal more HP Bananas or MP Candies, but only if they don't have any snacks or have just one.

Backflip
Lv. 9
-
"Occasionally dodge physical enemy attacks. (auto)"
-
15%
Gives the Mii a 15% chance of dodging physical attacks.
Whirlwind Blades
Lv. 10
8
"Dance like the wind, slicing and dicing many enemies in your path."
0.75
30%
Hits 3 times on random enemies. If a Mii uses Lend a Hand, it can hit up to 6 times.
Sneak Attack
Lv. 15
7
"Hide behind an enemy and catch them unawares for great damage."
2.4
25%
Deals great damage in exchange for losing a turn. The Mii cannot assist, be hit, or have Sprinkles used on them while hiding.
Phantom Strike
Lv. 23
15
"Hit the enemy over and over again with a phantasmal flurry of attacks."
0.4
30%
Hits 6 times on random enemies. If a Mii uses Lend a Hand, it can hit up to 9 times.
Huge Trap
Lv. 28
10
"Put a big trap in front of the whole party to counter enemy attacks."
-
15%
Identical to Booby Trap, but effective for the whole party. Raises friendship if the enemy attempts to hit a friend. Damage done by the trap is relative to the Attack of the Mii being targeted, not the Thief's Attack.
Rock Rain
Lv. 33
20
"Cause a landslide of rocks to fall from above, crushing the enemy."
0.6
30%
Hits all enemies 5 times. If a Mii uses Lend a Hand, it can hit up to 8 times.
Equipment
Expand to see the full list of Daggers:
Picture
No. & Name
Attack Stat

(Does not stack)

Buy/Sell Price

(Price Sum)

Apprentice Dagger

N. 01

+1
None
Toy Dagger

N. 02

+3
140 G
Sharp Dagger

N. 03

+8
310 G

(450 G)

Chef's Dagger

N. 04

+13
570 G

(1,020 G)

Ceramic Dagger

N. 05

+18
920 G

(1,940 G)

Moai Dagger

N. 06

+24
1300 G

(3,240 G)

Silver Dagger

N. 07

+30
1,900 G

(5140 G)

Fish

N. 08

+36
2,500 G

(7,640 G)

Shining Dagger

N. 09

+42
3,300 G

(10,940 G)

Heart Dagger

N. 10

+49
4,100 G

(15,040 G)

Night Dagger

N. 11

+56
5,000 G

(20,040 G)

Hero Dagger

N. 12

+67
6,600 G

(26.640 G)

Platinum Moai Dagger

N. 13

+78
8,400 G

(35,040 G)

Ancient Dagger

N. 14

+90
10,000 G

(45,040 G)

Shuriken Dagger

N. 15

+103
12,000 G

(57,040 G)

Mystic Dagger

N. 16

+115
15,000 G

(72,040 G)

Poison Dagger

N. 17

+130
17,000 G

(89,040 G)

Egyptian Dagger

N. 18

+143
20,000 G

(109,040 G)

Ninja Star

N. 19

+163
24,000 G

(133,040 G)

Legendary Dagger

N. 20

+190
30,000 G

(163,040 G)
Expand to see the full list of Gear:
Pictures
No. & Name
Defense Stat

(Does not stack)

Buy/Sell Price

(Price Sum)

Apprentice Gear

N. 01

+1
None
Leather Gear

N. 02

+4
140 G
Outdoor Gear

N. 03

+9
210 G

(350 G)

Chick Gear

N. 04

+12
310 G

(660 G)

Polka-Dot Gear

N. 05

+17
430 G

(1,090 G)

Pirate Gear

N. 06

+20
570 G

(1,660 G)

Arabian Gear (3DS)
Desert Gear (Switch)

N. 07

+25
730 G

(2,390 G)

Woolly Gear

N. 08

+28
920 G

(3,310 G)

Silk Gear

N. 09

+32
1,100 G

(4,410 G)

Swimming Gear

N. 10

+37
1,300 G

(5,710 G)

Macho Gear

N. 11

+40
1,600 G

(7,310 G)

Faux-Fur Gear

N. 12

+45
1,900 G

(9,210 G)

Monster Gear

N. 13

+48
2,200 G

(11,410 G)

Heart Gear

N. 14

+53
2,500 G

(13,910 G)

Stone Gear

N. 15

+57
2,900 G

(16,810 G)

Ice Cream Gear

N. 16

+65
3,700 G

(20,510 G)

Super Gear

N. 17

+73
4,600 G

(25,110 G)

Punk Gear

N. 18

+82
5,500 G

(30,610 G)

Hero Gear

N. 19

+90
6,600 G

(37,210 G)

Skeleton Gear

N. 20

+99
7,800 G

(45,010 G)

Ninja Gear

N. 21

+106
9,000 G

(54,010 G)

Hip-Hop Gear (3DS)
Golden Skull Gear (Switch)

N. 22

+115
10,000 G

(64,010 G)

Lightning Gear

N. 23

+128
12,000 G

(76,010 G)

Mushroom Gear

N. 24

+141
15,000 G

(91,010 G)

Steel Gear

N. 25

+153
17,000 G

(108,010 G)

Ancient Gear

N. 26

+167
20,000 G

(128,010 G)

High Tech Gear

N. 27

+180
23,000 G

(151,010 G)

Pharaoh Gear

N. 28

+194
27,000 G

(178,010 G)

Legendary Gear

N. 29

+207
30,000 G

(208,010 G)

Ragged Gear

N. 30

+0
Roulette Only

Sell : 50 G
Trivia
Thieves, Chefs, Cats, Tanks, Flowers, Vampires, and Pop Stars are the only jobs that have unique walking animations in exploration.
Despite directly being a thief, thief Miis do not steal (or at least not from humans).
The Thief is the only job that has an unique animation for pincering.
In the Nintendo Switch version, the Mii used in the Nintendo 3DS version's official artwork of the class is used as the default Mii for the Shady Merchant Father, and given the name "Suss."
Gallery
Official Artworks, Sprites & Gameplay
3DS Equipment Gallery
Clothing - Gear: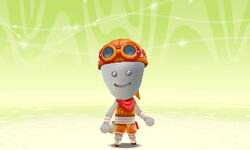 Skills
| Skill | 3DS | Switch |
| --- | --- | --- |
| Booby Trap | | |
| Pilfer | | |
| Backflip | | |
| Whirlwind Blades | | |
| Sneak Attack | | |
| Phantom Strike | | |
| Huge Trap | | |
| Rock Rain | | |