This page uses data from the Miitopia Param Info spreadsheet, compiled by PibPasquale, Kobazco, and UglyFrenchFry.

The Study of "Party Member" (Japanese: "Mii's name"の肖像画 Portrait of "Mii's name") is a painting mini-boss found in the Dark Lord's Castle as one of the three Teammate mid-bosses.
Appearance
It is a floating picture of the Dark Lord, but with the seventh teammate's (the first one recruited in the Realm of the Fey) face on it instead. There is an indigo frame around the picture.
History
Encounter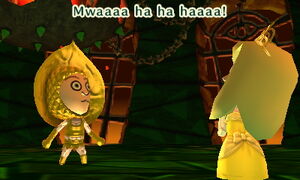 After the group split, the protagonist's party will find Teammate #4, and as a result, encounter the "Party Member" Demon. On the other hand, the party separated from the protagonist will find Teammate #7. The leader of the separated party calls out their name, but they then turns around, shaking in fear and faceless. They then hear the Study of "Party Member", laughing from above.
(the teammates separated from the protagonist enter a hallway)
Leader of the separated party: [Teammate]!
(teammate turns around and the leader sees that they have no face, followed by the text "Mwaaaa ha ha haaaa!" appearing on the top of the screen, together with maniacal laughter.)
Upon its attack, the party dismantle the rogue painting and free their friend. They then head to the inn, tired from the whole ordeal.
Actions
| Action name | Description | Chance to use | Hit rate |
| --- | --- | --- | --- |
| Attack | Spins into a Mii, doing damage. | 70% | 100% |
| Magic All | Inflicts damage on all Mii characters. (magic) | 30% | 100% |
| Gaze (auto) | An attacker may admire the enemy instead of attacking, before being hit. Only works with regular attacks. | 30% | - |
| One More Time! (auto) | Activates after attacking to allow a second attack on a different target. | - | - |
Enemy Statistics
Study of "Teammate"

| Image | HP | Attack | Defense | Magic | Speed | Locations Encountered |
| --- | --- | --- | --- | --- | --- | --- |
| | 700 | 58 | 28 | 14 | 20 | Dark Lord's Castle |
Gallery
See also