This page uses data from the Miitopia Param Info spreadsheet, compiled by PibPasquale, Kobazco, and UglyFrenchFry.

The Strong "King" Golem (Japanese: 強化"Mii's name"ゴーレム Strong "Mii's name" Golem) is encountered as a boss fight in the Sky Scraper along with Gold General "Princess". It is a stronger variant of "King" Golem.
Appearance
It is a large, stone golem with an icy-like blueish white coloration. The King's face is attached to its body.
History
Encounter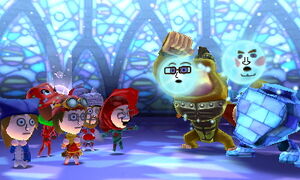 Partway into the Sky Scraper, the protagonist will encounter the stolen faces of the King and the Princess, both of whom unsure of what's going on. The Strong Golem appears almost immediately after, with the King's face being attached to it. In battle, the Strong "King" Golem is simply a harder version of the traditional "King" Golem, except for its new ability to cover the Gold General "Princess". After a short battle, both the Golem and the General are defeated, as the King's face is restored.
Actions
| Action name | Description | Chance to use | Hit rate |
| --- | --- | --- | --- |
| Attack | Punches one Mii for considerable damage. | 100% | 100% |
| One More Time! (auto) | The Golem can move twice in one turn. | - | - |
| Cover | When attacking Gold General "Princess" with a normal attack, the Strong "King" Golem will take the attack for it. Cannot cover for magic or skills. | 80% | - |
Enemy Statistics
Strong "King" Golem

| Image | HP | Attack | Defense | Magic | Speed | Locations Encountered |
| --- | --- | --- | --- | --- | --- | --- |
| | 580 | 82 | 52 | 0 | 18 | The Sky Scraper |
Gallery
See also