"A critic in search of the choicest eats. Has strange tastes in food."
- Mii Cast description
Appearance
The Roaming Gourmet has blonde hair styled in big curls on the sides. He wears orange clothing with a white cloth tied around the neck as his bib.
Bio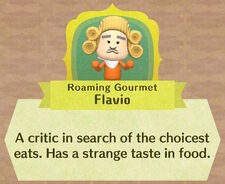 The Roaming Gourmet, like the Quizmaster, appears on a certain part of a map and disappears after being visited. He serves as a grub giver, sharing three portions of a rare grub otherwise only obtainable in chests or as prizes from the Roulette. Whenever he is visited, he is always seen praising a grub placed on the table, ready to eat. After commenting on said delicacy, he will spot the on-screen party member and decide to share the food.
The Roaming Gourmet can still be encountered during the post-game, sometimes showing up in random dungeons. When he appears in a random dungeon, the party will receive another three of the signature grub.
Obtainable Grub
The grub obtained from the Roaming Gourmet differ by region. He can never show up in "dangerous" and unlivable regions, those being The Sky Scraper, Otherworld, and New Lumos. Random dungeons can randomly include him in the level layout.
Trivia
His default English name in the Nintendo Switch version is the same one of a character from Paper Mario: The Thousand Year Door.
The default Mii used for the Roaming Gourmet in the Nintendo Switch version is identical to the Mii used in the Chef's artwork for the Nintendo 3DS version, albeit with a lighter skin tone.
Gallery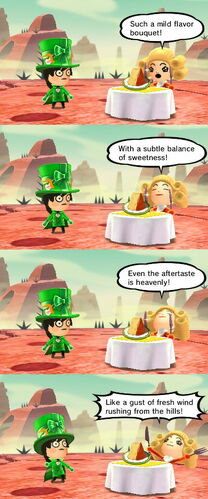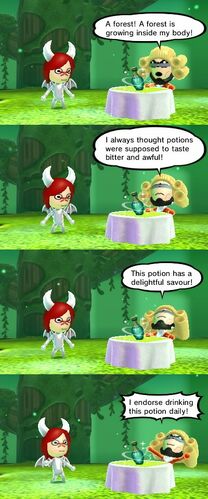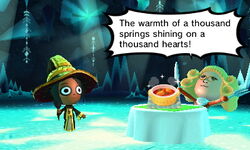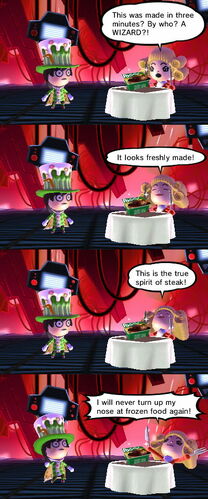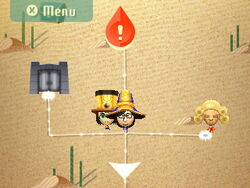 Names in other languages
Default Mii
Language
Name[1]
Meaning
Japanese
グルメール
Gourmer
Pun on the word gourmet.
French
Goustan
From goût ("taste", "flavor").
German
Gusto
Italian for taste or flavor.
Italian
Flavio
Same as his English name.
Spanish
Sibarito
Korean
Flavio
Same as his English name.
Dutch
Sjef
Pun on the word chef.
Chinese
Flavio
Same as his English name.
References