This page uses data from the Miitopia Param Info spreadsheet, compiled by PibPasquale, Kobazco, and UglyFrenchFry.

The Red "Youngest Fab Fairy" Frog (Japanese: 赤い"Mii's name"ガエル Red "Mii's name" Frog) is one of the bosses that the Darker Lord creates to rematch the party in The Sky Scraper. It is a stronger version of the Youngest Fab Fairy Frog.
Appearance
It is physically identical to the first frog, however its skin is pink with a gold mouth and green whiskers and tail fins.
Quest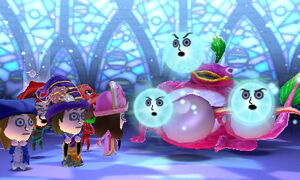 Partway into The Sky Scraper, the party will encounter two "Fab Fairy"poles as well as this monster. Defeating them will restore the Fab Fairies' faces.
Actions
| Action name | Description | Chance to use | Hit rate |
| --- | --- | --- | --- |
| Wide Shot | Jumps and causes a splash, hitting a Mii and adjacent ones. | 50% | 100% |
| Bad Breath | Sucks in lots of air into its belly. After inhaling twice, the frog unleashes a high-damage breath of stinky air. Empties the frog's belly. | 50% | 100% |
| One More Time! (auto) | Can do an action twice in one turn. | - | - |
Enemy Statistics
Red "Youngest Fab Fairy" Frog

| Image | HP | Attack | Defense | Magic | Speed | Locations Encountered |
| --- | --- | --- | --- | --- | --- | --- |
| | 1000 | 120 | 50 | 52 | 23 | The Sky Scraper |
Gallery
See also