The
Pharaoh "Genie" II
(Japanese:
ファラオ"Mii's name"2世
Pharaoh "Mii's name" II
) is a boss monster found in
The Sky Scraper
. It is a stronger version of
Pharaoh "Genie"
created by the
Darker Lord
.  
Appearance
Pharaoh "Genie" II is literally an all-blue recolor of the previous version. Its curse has also been turned blue to match.
Quest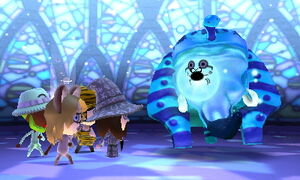 Partway into The Sky Scraper, the Darker Lord will reveal the caught Genie's face and attach it to the boss. Upon its defeat, the Genie is saved once again.
Actions
| Action name | Description |
| --- | --- |
| Attack | Inflicts damage on three adjacent Miis. |
| Pharaoh's Curse | Places a curse on one of the Miis. If a Mii gets cursed, they'll end up giving their "offering" in the form of HP Bananas to the monster when they try to perform an action. Otherwise they'll do nothing if they don't have any. |
Tip: It's fought exactly the same way as the first fight, but the player has more options now. Like last time, the Safe Spot will quickly neutralize the curse before they heal the boss.
Enemy Statistics
Pharaoh "Genie" II

| Image | HP | Attack | Defense | Magic | Speed | Locations Encountered |
| --- | --- | --- | --- | --- | --- | --- |
| | 900 | 102 | 45 | 0 | 26 | The Sky Scraper |
Gallery
See also