The
Pharaoh "Genie"
(Japanese:
ファラオ"Mii's name"
Pharaoh "Mii's name"
) is a boss encountered during the events of
Miitopia
, as the end-boss of
Neksdor
. As the name implies, the Pharaoh is inspired from the monarchs of the same name from Ancient Egypt, particularly
Tutankhamun
, going along with Neksdor's Arabian-Egyptian theme.
The pharaoh, said to be one of the Dark Lord's best minions, uses the stolen face of the Genie of the Lamp, residing within the very end of the Great Pyramid.
Appearance
Pharaoh "Genie" is a giant gold disembodied head of a pharaoh. It dons a pharaoh headdress that has green stripes on it and wears a pair of red earrings. This is the monster where the Genie's face ended up attached to for the first time.
History
Arising and battle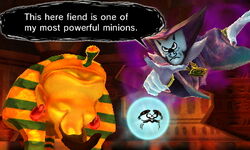 As the Hero travels further into the Great Pyramid, they manage to encounter the Dark Lord again, who is in possession of the Genie's face. As he summons the ancient pharaoh of the pyramid, he attaches the face to the pharaoh, initiating the battle.
In battle, the Pharaoh is a tough opponent, possessing the ability to curse members of the player's party, causing them to stand with cross arms while wearing a nemes, a pharaoh headdress. Additionally, cursed Miis can offer up HP Bananas to the Pharaoh if they have any, healing the Pharaoh. Eventually, the Pharaoh is at last defeated, and the Genie's face is restored.
Actions
| Action name | Description |
| --- | --- |
| Attack | Flicks a Mii with its beard. Also damages other Miis adjacent to him/her. |
| Pharaoh's Curse | Places a curse on one of the Miis. If a Mii gets cursed, they'll end up giving their "offering" in the form of HP Bananas to the user when they try to perform an action. Otherwise they'll do nothing if they don't have any. |
| One More Time! (auto) | Activates after attacking to allow a second attack on a different target. |
Tip: To get rid of the curse, simply place the Mii that is cursed into the Safe Spot. The curse should go away on its own.
Enemy statistics
Pharaoh "Genie"

| Image | HP | Attack | Defense | Magic | Speed | Locations Encountered |
| --- | --- | --- | --- | --- | --- | --- |
| | 700 | 56 | 35 | 0 | 13 | Great Pyramid |
Gallery
See also