This page uses data from the Miitopia Param Info spreadsheet, compiled by PibPasquale, Kobazco, and UglyFrenchFry.

Naughty Imp (Japanese: やさぐれデビル Yasagure-Devil; Sulking Devil) is a monster that first appears as a boss inside Greenhorne Castle. It reappears in the Dark Lord's Castle among other foes. Defeating this monster rescues a Mii's pair of eyes.
It appears alone in its mini-boss fight.
Appearance
It is a green-skinned Imp. It has green hair and robe as well as a lime green spear as its held weapon. A pair of Mii eyes are attached to its face.
Quest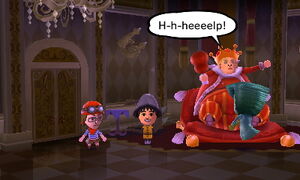 After obtaining the Calming Fruit in Wayward Woods, the player's party returns to Greenhorne Castle only to discover that it has been wrecked by monsters. After defeating two Imps, this monster is fought in the Throne Room, where it's seen threatening the King.
Defeating this monster there will make the castle monster-free and allow the plot to move forward.
Naughty Imps can be encountered later in Dark Lord's Castle as regular enemies.
Actions
Action name
Description
Chance to use
Hit rate
Attack
Stabs a Mii with its spear.
75%
100%
Spite
Dips the heart of one Mii in darkness which may cause the Mii to become evil and thus possibly interfere with their teammates' attacks, causing resentment.
25%
60%
One More Time! (auto)
The Naughty Imp uses two actions in one turn.
Enemy statistics
Aside from the fact that the boss version drops no Gold, the differences between the boss and the non-boss versions are the fact that a non-boss Naughty Imp has significantly less HP compared to the boss version, about a third of the latter's HP, and it can't drop Devil's Food Cake ★★ (and adds the basic Devil's Food Cake to its drop list) . However, it has more Attack and Defense compared to the boss version, and drops more EXP.
Naughty Imp

| Image | HP | Attack | Defense | Magic | Speed | Locations Encountered |
| --- | --- | --- | --- | --- | --- | --- |
| | 360 | 60 | 16 | 0 | 15 | |
| | 120 | 65 | 22 | 0 | 15 | |
Trivia
Gallery
See also