This article is about the job in Miitopia. You may be looking for the enemy or the boss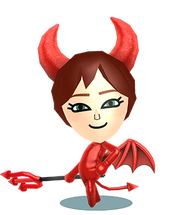 "Ever the cause of mischief and mayhem, but cute enough to get away with it."
-Job Description
Imp description
The Imp (Japanese: デビル Devil) is a Job in Miitopia that focuses on magic damage and tampering with enemies.
Their weapon of choice is the Spear.
Their clothing is called Costumes.
The Imp can do serious damage and can not only steal HP and MP from enemies, but also lower their defenses. The Imp can also recover teammates' MP and put a positive status effect on them.
The Imp's default attack is single target only.
Stats
Lv. 1
Lv. 50
Lv. 50, best equipment,

& max food buffs

HP
12
297
396
MP
5
88
187
Attack
5
58
300
Magic
7
180
472
Defense
6
91
394
Speed
5
54
153
Skills
| Skill | Learned | MP Cost | Description | Extra Notes |
| --- | --- | --- | --- | --- |
| Naughty Pitchfork | Lv. 2 | 4 | "Skewer an enemy with a fork formed of darkness. (magic)" | |
| Butt Jab | Lv. 3 | 3 | "Gently prod a friend and get them to attack an enemy in your place." | The targeted ally's attack does slightly more damage than normal. |
| Sweet Whispers | Lv. 6 | 7 | "Tell an enemy a little white lie to distract it." | Distracted enemies take 1.5x more damage. |
| Brain Drain | Lv. 10 | 0 | "Draw mental energy from an enemy and transform it into MP." | The power of the absorption is dependent on the enemy's Magic rather than the user's. |
| Energy Drain | Lv. 11 | 12 | "Drain an enemy's life energy and transform it into HP. (magic)" | |
| Charm | Lv. 15 | 10 | "Tinker with a friend's emotions and rouse them to action." | Restores some of an ally's MP and makes them excited. Excited teammates can only use the default attack, but it does more damage. |
| Punishing Pitchfork | Lv. 18 | 12 | "Skewer an enemy plus the two next to it with forks of darkness. (magic)" | |
| Demonic Whisper | Lv. 23 | 20 | "Try to drag enemies into the depths. If you're lucky, they'll simply vanish." | Attempts to instantly defeat every enemy. The success rate is low, and it doesn't work on bosses. |
| Wicked Pitchforks | Lv. 31 | 35 | "Skewer all enemies with forks of darkness. (magic)" | Hits random enemies 6 times. |
Trivia
In the European version, this job's Butt Jab skill is referred to as "Bum Jab", presumably because "bum" is a more common word than "butt" in the UK.
In promotional Material from Nintendo of Europe, the Mii used for the Imp's official artwork is given the name "Sis" from NOE's Adventure awaits your Tomodachi Life friends video, although no further description is given. Given, however, that the Mii used for the Mage's official artwork is the main character of the video, it could describe the idea of importing your sibling.

On the Official Website for NOE, however, she is alternatively given the name "Marie", and is depicted as having the Airheaded personality from her voice and gestures.
Gallery
Skills