This page uses data from the Miitopia Param Info spreadsheet, compiled by PibPasquale, Kobazco, and UglyFrenchFry.

This article is about the boss in Miitopia. You may be looking for the job or the enemy
The Imp "Cheery Granny" (Japanese: デビル"Mii's name" Devil "Mii's name") is a boss monster fought in the Castle View area of Greenhorne. It is fought directly after completing Riverdeep Cavern.
After the Dark Lord's attack on Greenhorne and theft of the Cheery Granny's face, your party has to face this monster at the Castle View. It's accompanied by four Apple Jellies.
This boss also appears during the fight with the Dark Lord, taking the face of a party member and placing it on this boss. Up to two are summoned at a time, which leaves your party at half power.
This boss can also reappear during traveler quests in the post-game, accompanied by either two Rock Hoppers, two Hamburger Surprises, or a Replica Dark Lord. It has the same attacks, but higher stats.
Appearance
It is a floating devilish creature with a pointy pompadour hairstyle, robe covering its body and a trident as its weapon. Its hair and robe are dark gray, while its skin is light blue. It also resembles a smaller, trident-wielding version of the Dark Lord.
Quest
As you arrive at the location, you will encounter the Dark Lord, who will summon Imp "Cheery Granny" to fight you as he flees toward the castle.
Dark Lord: *laughs* So, we meet again!
Protagonist: Eurk!
Dark Lord: Pathetic... It's not even worth the effort to crush you myself! This should be enough to finish you off!
After Defeating the Imp, the face will fly back to Greenhorne. Upon thanking you, the Cheery Granny will give the player some Sharp Stew ★.
The Imp makes a second appearance during the Dark Lord Boss Fight once they are brought down to half health. A faceless Imp will be summoned, at which point the Dark Lord will steal the face of one of your party members. (The Imp will also say the party member's battle cry, if they have one.) The faceless party member will be unable to perform any actions until the Imp is defeated, which will return their face to them and allow them to fight once more.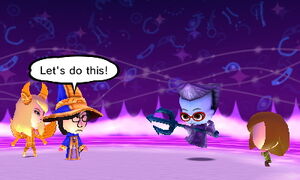 The Travelers' Hub quest variant can randomly show up in the end of a temporary dungeon, this time with the client's face. In the quest variant, it is assisted by a Replica Dark Lord. Defeating it will clear the quest.
Actions
Action name
Description
Chance to use
Hit rate
Attack
Inflicts physical damage on one party member.
50% (all variants)
100% (Dark Lord boss fight only)
100%
Magic
Skewers a Mii with a fork formed of darkness. (magic) (boss only)
50%
100%
One More Time! (auto)
Activates after attacking to allow a second attack on a different target. Attacks three times as a traveler quest boss.
-
-
Cover
The Imp takes a hit for another Imp or the Dark Lord from a regular attack. Can not cover skills, magic, or regular attacks that hit all enemies. It can also be applied to itself to reduce damage taken. (Dark Lord boss fight only)
80%
-
Enemy statistics
The Imp "Cheery Granny" is one of the bosses encountered in Greenhorne. This Imp variant later becomes a recurring enemy in the main story and can even appear as a boss in Travelers' Hub quests. As a quest boss, this Imp's strength depends on what quest level it's encountered in.
Imp "Mii"/Imp "Cheery Granny"

| Image | HP | Attack | Defense | Magic | Speed | Locations Encountered |
| --- | --- | --- | --- | --- | --- | --- |
| | 130 | 30 | 15 | 13 | 10 | Castle View |
| | 80 | 75 | 30 | 0 | 15 | Dark Lord's Throne (boss summon) |
| | 1000 | 132 | 77 | 60 | 35 | Temporary dungeons (low-level quests) |
| | 2470 | 240 | 102 | 130 | 72 | Temporary dungeons (high-level quests) |
| | 3000 | 288 | 170 | 175 | 92 | Temporary dungeons (high-level quests) |
Gallery
See also