This page uses data from the Miitopia Param Info spreadsheet, compiled by PibPasquale, Kobazco, and UglyFrenchFry.

Ice Queen "Kidnapped Friend" (Japanese: 氷の女王"Mii's name" Ice Queen "Mii's name") is a boss in Ghontu Cave, found in Powdered Peaks.
It has the face of a Thief's friend on it and defeating it will reward the player with a Sky Scraper Jewel to open the Sky Scraper.
Appearance
The Ice Queen, inspired from the Nordic mythological creature of the same name, is a humanoid female whose lower body is shaped like a twister. She has purple hair, two icy crystals on the back of her head, bluish white skin and blue clothing and gloves. Icy wind and snowflakes swirl around this monster. The Traveler's friend's face is attached to this monster's own face.
Quest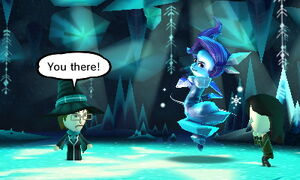 The player will accept the quest in the Travelers' Hub from a Thief who states that his/her friend found a weird-looking jewel before being immediately kidnapped by a monster that swooped down from the clouds.
The player then travels to Powdered Peaks where they go into Ghontu Cave and have the party separated. Shortly after they reunite, they will then battle the Ice Queen and restore the kidnapped Mii's face. The thankful Mii then hands them a Sky Scraper Jewel to open The Sky Scraper.
Actions
| Action Name | Description | Chance to use | Hit rate |
| --- | --- | --- | --- |
| Attack | Stabs a single Mii with the icicle under its waist to deal damage. | 35% | 100% |
| Magic All | Releases cold air, damaging the entire party. (magic) | 40% | 100% |
| Spite | Dips a Mii's heart in darkness, which may cause them to gain the Spite status. Spiteful characters interfere with other Mii characters' attacks by tripping them, which can lead to resentment. | 25% | 30% |
| One More Time! (auto) | Attacks twice per turn. | - | - |
Enemy statistics
Ice Queen "Kidnapped Friend"

| Image | HP | Attack | Defense | Magic | Speed | Locations Encountered |
| --- | --- | --- | --- | --- | --- | --- |
| | 1280 | 115 | 55 | 36 | 37 | Ghontu Cave |
Sounds
Appear
Gallery
See also