This page uses data from the Miitopia Param Info spreadsheet, compiled by PibPasquale, Kobazco, and UglyFrenchFry.

Gold General "Princess" (Japanese: ゴールド"Mii's name"将軍 Gold General "Mii's name") is a monster that appears in The Sky Scraper. It is a stronger version of General "Princess" that appears with the Strong "King" Golem.
History
Encounter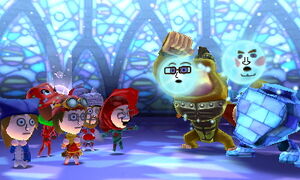 While trekking through the Sky Scraper, the protagonist will suddenly encounter the faces of the Princess and the King, who are both unsure of what's going on. Suddenly, the Gold General appears alongside the Strong Golem, and a battle begins. In battle, the Gold General fights exactly the same way as the General "Princess", except with enhanced stats. However, one major addition to this fight is that it can now be protected by its Strong Golem lackey. After a short battle, both the Gold General and the Strong Golem are defeated, and the King and Princesses' faces are restored.
Appearance
The Gold General's appearance is the exact same as its predecessor, except having gold fur with silver armor and a brownish-red cape.
Actions
| Action Name | Description | Chance to use | Hit rate |
| --- | --- | --- | --- |
| Attack | Punches a Mii for high damage. | 100% | 100% |
| Hard Attack | Inflicts 1.5 times more damage than its regular attack. | 100% | 100% |
| Magic All | Spins and hits the party with the fist's shock wave. (magic) | 30% | 100% |
| One More Time! (auto) | Uses two actions per turn. | - | - |
Enemy Statistics
Gold General "Princess"

| Image | HP | Attack | Defense | Magic | Speed | Locations Encountered |
| --- | --- | --- | --- | --- | --- | --- |
| | 620 | 102 | 50 | 27 | 26 | The Sky Scraper |
Gallery
See also