This page uses data from the Miitopia Param Info spreadsheet, compiled by PibPasquale, Kobazco, and UglyFrenchFry.

The Dragon (Japanese: ドラゴン Dragon) is a boss found in the Dark Lord's Castle. He is the brainwashed form of Dominic.
When the party talks about dragons and if they're real, the boss shows up shortly after.
After defeating him, the Dark Lord's power leaves and he recovers, turning Dominic back to normal.
Not counting the Dark Lord, he is the final boss of Karkaton.
Appearance
The Dragon is serpentine with four legs and two large wings. His lizard-like head bears two horns, colored bright cyan. A row of teardrop-shaped spikes line his back and his skin is splotchy. He also has two brown Mii eyes instead of Dominic's normal black eyes.
History
Encounter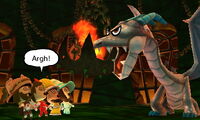 Prior to encountering the Dragon, the party talks to each other about whether Dragons exist or not, commonly believing that they are from fairy-tales. It is soon after that an actual Dragon appears before them, initiating a battle. In-battle, the Dragon is a powerful adversary, being able to breathe fire on the entire party or roar at them, causing them to become frightened. After a tough battle, the Dragon is defeated, turning Dominic back to normal.
Actions
| Action name | Description | Chance to use | Hit rate |
| --- | --- | --- | --- |
| Magic Terror | Does damage and may cause the Terror status, in which the Mii will not do anything for one turn. (magic) | 30% | 100% |
| Magic All | Deals damage to all Mii characters. (magic) | 70% | 100% |
| One More Time! (auto) | Uses actions twice per turn. | - | - |
Enemy statistics
Dragon

| Image | HP | Attack | Defense | Magic | Speed | Locations Encountered |
| --- | --- | --- | --- | --- | --- | --- |
| | 1300 | 66 | 30 | 20 | 28 | Inner Passage |
Sounds
Appear
Trivia
In the game's launch trailer from Nintendo of Europe, one clip shows the Dragon boss being encountered in Nightmare Tower. This is likely an error, as the Dragon is never encountered in Nightmare Tower, neither in the main game nor the post-game. It is possible that the Dragon Boss was meant to appear in Nightmare Tower at some point, but the idea of that was scrapped.
In the game's coding, an enemy name known as "Dragon0Demo0" appears in the list of enemies. Among its stats is 320 HP, possibly implying that other Dragons were intended to appear as normal enemies after the Dragon boss was defeated.
Gallery
See also