This page uses data from the Miitopia Param Info spreadsheet, compiled by PibPasquale, Kobazco, and UglyFrenchFry.

Cerberus (Japanese: ケルベロス Kerberos; based on the Greek name) is a boss that appears inside Karkaton's volcano just after the split paths join. This is also the first battle where the player can utilize the Hyper Sprinkles.
Bio
It was first created when three of the hero's teammates attempted to escape before being sadly caught and their faces were attached onto the Cerberus's heads. Its defeat freed these team members.
Appearance
It is a three-headed blackish gray giant dog with three Mii faces on top of their heads. It wears a spiky collar. It dons the faces of Mii 9 on the left head, 3 on the middle head and 6 on the right head; the second ones recruited (not including the hero) in each of the 3 chapters.
Quest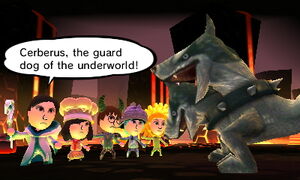 During the first trek through Karkaton's volcano, the player's party is forced to split up because of a falling boulder. Right after both groups rejoin, this boss monster shows up, initiating a battle.
After defeating it, the three faces attached to the monster fly back to the respective teammates, rescuing them.
Actions
| Action name | Description | Chance to use | Hit rate |
| --- | --- | --- | --- |
| Attack | Inflicts physical damage on one party member. | - | 100% |
| Magic Wide | The right head of Cerberus shoots a fireball at a party member. The other party members adjacent to the affected Mii take damage too. (magic) | 30% | 100% |
| Magic All | The left head of Cerberus freezes all Mii characters with a breath of ice-cold air. (magic) | 50% | 100% |
| Nightmare | The middle head of Cerberus traps a mii in a nightmare, afflicted mii cannot move and takes damage every turn. | 20% | 100% |
| One More Time! (auto) | Attacks three times per turn. | - | - |
Enemy statistics
Cerberus

| Image | HP | Attack | Defense | Magic | Speed | Locations Encountered |
| --- | --- | --- | --- | --- | --- | --- |
| | 1200 | 76 | 32 | 20 | 32 | Karkaton |
Sounds
Appear
Trivia
The Cerberus is based off the Greek mythological creature of the same name, also known as the Hound of Hades.
The Tomato Bros and Cerberus are the only monsters to have three separate Mii faces, attack 3 times a turn, and also not have any Mii's name for the title of the boss.
In this battle, the player unlocks the Hyper Sprinkles.
The Cerberus is the first enemy (According to the Journal and encounter) to break 1000 HP.
Gallery
See also