This page uses data from the Miitopia Param Info spreadsheet, compiled by PibPasquale, Kobazco, and UglyFrenchFry.

Butterfly "Scaredy-Cat" (Japanese: チョウ"Mii's name" Butterfly "Mii's name") is a boss monster that can be found in Realm of the Fey in the Citrus Cave, where it's accompanied with two Snails in battle. It is shaped similarly like all other butterfly monsters but it's the same size as Butterfly "Carefree Guide" and has multi-color skin. The boss takes the face of the Scaredy-Cat from Elven Retreat.
This can also be seen as a random quest boss, with higher stats.
Appearance
It is a huge crystalline butterfly the size of Butterfly "Carefree Guide". It has multi-color skin unlike all other Moth/Butterfly-based monsters. The Scaredy-Cat's face (Traveler's in post-game) is attached to its front side.
History
Encounter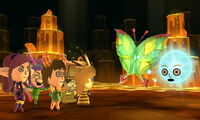 After the Dark Lord's surprise attack on the Elven Retreat, the protagonist and their teammates have to rescue all the lost faces of some of the elves, including the Youngest Fab Fairy. One of the elves, the Scaredy-Cat, has their face attached to this monster, which is found in Citrus Cave. Defeating this monster will free their face and earn you one of the Fey Jewels.
Post-game
The Travelers' Hub quest variant can randomly show up in the end of a temporary dungeon, this time with the client's face. Defeating it will clear the quest.
Actions
| Action name | Description | Chance to use | Hit rate |
| --- | --- | --- | --- |
| Attack | Hits one party member with its wings. | 50% | 100% |
| Magic All | Inflicts damage to all party members. (magic) | 50% | 100% |
Enemy statistics
Butterfly "Scaredy-Cat"

| Image | HP | Attack | Defense | Magic | Speed | Locations Encountered |
| --- | --- | --- | --- | --- | --- | --- |
| | 400 | 45 | 16 | 18 | 9 | Citrus Cave |
| | 1300 | 132 | 70 | 45 | 50 | Temporary Dungeons : |
Gallery
See also
Other Butterflies :
Expand to see the full list for this monster type :
No.
Image
Name
Location
002
Rock Moth
Easin Hills (Greenhorne)
004
Butterfly "Carefree Guide"

(Silver)

Easin Hills (Greenhorne)
013
Poison Moth
Arid Frontier (Greenhorne)
029
Jade Butterfly
Wetland Way (Neksdor)
077
Gold Butterfly
Karkaton Ascent

Armory (Dark Lord's Castle)

Inner Passage (Dark Lord's Castle)

13
Death Butterfly
The Sky Scraper
207
Black Butterfly
4th District (New Lumos)