Butterfly "Carefree Guide"
(Japanese:
チョウ"Mii's name"
Butterfly "Mii's name"
) is a boss monster.
After the Dark Lord's attack on Greenhorne and theft of the Carefree Guide's face, the party have to face this monster in Easin Hills. It appears alone. This monster is also the very first boss in the game not counting Mini "Sassy Child" Slime.
This monster can reappear as a random quest boss, with Poison Mist attack added to its skill set.
Appearance
It is a huge silver crystalline butterfly with the Carefree Guide's face attached to its front. It's bigger compared to the Rock Moths found in the area it appears in.
History
Encounter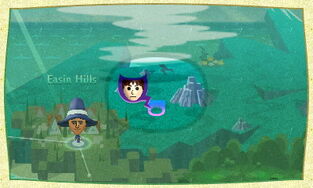 As the protagonist and their first teammate travel through Easin Hills, they will wonder where the Carefree Guide's face is.
Protagonist: Is [Carefree Guide]'s face around here somewhere?
Second party member: It'd be stuck to a monster right?
Protagonist: Who knows?
Second party member: Well, let's search. And hope it doesn't find us./Less talking, more looking.
They will eventually find the Carefree Guide's face floating about, with him being confused about the entire situation. While the Butterfly "Carefree Guide" has the ability to attack twice with its standard attack, the protagonist and their teammate quickly manage to defeat it, rescuing the Carefree Guide. Upon thanking the player, he will give the player 200 G.
Post-game
The Travelers' Hub quest variant can randomly show up in the end of a temporary dungeon, this time with the client's face. Defeating it will clear the quest.
Actions
| Action name | Description |
| --- | --- |
| Attack | Deal damage to one party member. |
| One More Time! (auto) | Activates after attacking to allow a second attack on a different party member. |
| Poison Mist | Inflicts magical damage to all party members. (Post-game only) |
Enemy statistics
The Butterfly "Carefree Guide" is the second boss encountered, some time after the protagonist recruited their first teammate. The Butterfly "Traveler" however, is a randomly decided Travelers' Hub quest boss.
Butterfly "Carefree Guide"/Butterfly "Traveler"

| Image | HP | Attack | Defense | Magic | Speed | Locations Encountered |
| --- | --- | --- | --- | --- | --- | --- |
| | 25 | 12 | 7 | 0 | 6 | Easin Hills |
| | 1300 | 132 | 70 | 45 | 50 | Temporary dungeons |
| | 2680 | 250 | 104 | 97 | 90 | Temporary dungeons |
Gallery
See also