This page uses data from the Miitopia Param Info spreadsheet, compiled by PibPasquale, Kobazco, and UglyFrenchFry.

The "Youngest Fab Fairy" Frog (Japanese: "Mii's name"ガエル "Mii's name"-Gaeru; "Mii's name" Frog) is a boss in the Realm of the Fey. After the Fab Fairies open the gate to the East the Dark Lord swoops in and steals the Youngest Fairy's face (among other villagers) and plasters it to the belly of a giant frog.
It may be the adult stage of Tadman.
Appearance
The "Youngest Fab Fairy" Frog is a giant, obese blue frog monster with a long finned tail and a large, white stomach where the Youngest Fab Fairy's face can be seen. The frog's regular face features two eyes with somewhat horizontal pupils, and a pink mouth with long yellow whiskers. The top of its head has what looks to be a gold colored feather-like lock of hair. It is depicted in a somewhat slouched over position.
Quest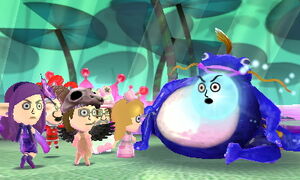 After the Dark Lord's surprise attack on the Elven Retreat, the player has to recover the stolen faces that are scattered around Realm of the Fey. The Youngest Fab Fairy is one of the victims of said attack, which results in her face being stolen and attached to this monster, who resides in Lotus Lake. Defeating this monster will free her face.
Actions
| Action name | Description | Chance to use | Hit rate |
| --- | --- | --- | --- |
| Wide Shot | Jumps and causes a splash, hitting a Mii and adjacent ones. | 50% | 100% |
| Bad Breath | Sucks in lots of air into its belly. After inhaling twice, the frog unleashes a high-damage breath of stinky air. Empties the frog's belly. | 50% | 100% |
| Once more! (auto) | Can do two actions in one turn. | - | - |
The frog's main attack is causing a big splash of water that strikes one Mii and also (fittingly enough) causes splash damage to the Miis on both sides. On some turns it will inhale a large sum of air that makes its stomach even larger than before. While in this specific stage it can either attack like normal, or inhale a second gulp of air to further distend its body. After the second turn of air intake it will eventually unleash all of the stored air in the form of a highly noxious belch, which badly damages the entire party. It's highly recommended to keep one Mii in the Safe Spot after it has inhaled a second breath of air.
Enemy statistics
"Youngest Fab Fairy" Frog

| Image | HP | Attack | Defense | Magic | Speed | Locations Encountered |
| --- | --- | --- | --- | --- | --- | --- |
| | 650 | 55 | 22 | 24 | 13 | Lotus Lake |
Sounds
Appear
Gallery
See also