This page uses data from the Miitopia Param Info spreadsheet, compiled by PibPasquale, Kobazco, and UglyFrenchFry.

The "Shady Merchant Father" Shield (Japanese: 盾の"Mii's name" "Mii's name" Shield) is a boss fought in the Great Pyramid alongside the "Shady Merchant Daughter" Blade.
This type of monster also makes an appearance as a Travelers' Hub quest monster. It looks the same (albeit with a Traveler's face) and doesn't have an individual entry in the Monsters section of the Journal. Its moveset is even the same, though it's significantly stronger, being a post-game encounter.
Appearance
The "Shady Merchant Father" Shield is orange with a red/yellow striped pattern on its edge. A cross slash mark can be seen on the right side of the shield (left on the official artwork for the Nintendo Switch version). The Shady Merchant Father's face is plastered on the front of the shield and it has a handle on its back.
History
Encounter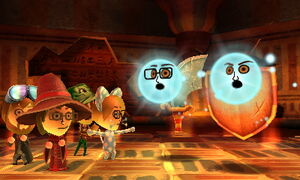 The Shady Merchant Father, along with everyone else in Neksdor Town, gets his face stolen by the Dark Lord which forces the protagonist to go after him. The protagonist enters the pyramid in which the Shady Merchant Family (the daughter and father) faces appear, and then get stuck to the levitating blade and shield. After you defeat them, they will return to the Neksdor Town where they'll reward you with one of the Neksdor Jewels. They'll also decrease the price of the MP Candy they sell, albeit, it'll still be very overpriced-going from 500 G to 498 G.
Post-game
The Travelers' Hub quest variant can randomly show up in the end of a temporary dungeon, this time with the client's face. Defeating it will clear the quest.
Actions
| Action name | Description | Chance to use | Hit rate |
| --- | --- | --- | --- |
| Attack | Rams one Mii. | 100% | 100% |
| Cover | If any ally monsters are in battle, the Shield may take damage from a Mii's regular attack instead of its ally. Can not cover for regular attacks that hit all enemies or skills. | 100% | - |
Enemy statistics
In the post-game there are two versions of the "Traveler" Shield, one encountered in low-level quests and one encountered in high-level quests. Each has their own stats, but they're significantly stronger compared to the Shield encountered in the main story.
"Shady Merchant Father" Shield

| Image | HP | Attack | Defense | Magic | Speed | Locations Encountered |
| --- | --- | --- | --- | --- | --- | --- |
| | 300 | 35 | 20 | 0 | 12 | Great Pyramid |
| | 780 | 153 | 133 | 0 | 43 | Temporary dungeons (low-level quests) |
| | 2360 | 320 | 209 | 0 | 90 | Temporary dungeons (high-level quests) |
Gallery
See also