This page uses data from the Miitopia Param Info spreadsheet, compiled by PibPasquale, Kobazco, and UglyFrenchFry.

"Prickly Husband" Cobra (Japanese: "Mii's name"コブラ "Mii's name" Cobra) is a boss monster first encountered in Neksdor.
This type of monster also makes an appearance as a Travelers' Hub quest monster, as it looks the same (albeit with a Traveler's or their friend's face) and doesn't have an individual entry in the Monsters section of the Journal. Its moveset is even the same, though it's significantly stronger, being a post-game encounter.
Appearance
It is a purple cobra with the Prickly Husband's (Traveler's or their friend's in the post-game) face attached to the front side of its hood. It's larger than other cobra-based monsters.
Quest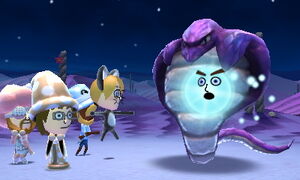 After the Dark Lord's attack on Neksdor Town, the player has to recover the stolen faces that are scattered around the Neksdor region. In the Prickly Husband's case, his face is stuck on this monster, who is encountered somewhere in Neksdor Desert. Defeating this monster will free the Prickly Husband's face.
The Travelers' Hub quest variant can randomly show up in the end of a temporary dungeon, this time with the client's face. Defeating it will clear the quest.
Actions
Action name
Description
Chance to use
Hit rate
Attack
Inflicts physical damage on one party member.
80% (main story)
50% (post-game)
100%
Summon
Calls for a monster ally to assist the user. During the Neksdor fight, it will be a Blue Cobra after that it will be a Yellow Cobra. During a traveler quest, could be a Fossil (Foot) or Red Orochi, depending on the level of the quest.
20% (main story)
50% (post-game)
-
One More Time! (auto)
Activates after attacking to allow a second attack on a different target.
-
-
Enemy statistics
In the post-game, "Traveler" Cobras have different stats depending on quest difficulty. Higher level quests will result in the toughest version of the Cobra.
"Mii" Cobra

| Image | HP | Attack | Defense | Magic | Speed | Locations Encountered |
| --- | --- | --- | --- | --- | --- | --- |
| | 300 | 40 | 12 | 0 | 16 | Neksdor Desert - North |
| | 1350 | 157 | 90 | 0 | 61 | Temporary dungeons (low-level quests) |
| | 4230 | 302 | 119 | 0 | 95 | Temporary dungeons (high-level quests) |
Gallery
Trivia
See also