This page uses data from the Miitopia Param Info spreadsheet, compiled by PibPasquale, Kobazco, and UglyFrenchFry.

"Lovey-Dovey Woman" Mouse (Japanese: ネズミー Mouse), or "Traveler's Friend" Mouse in quest dungeons (not to be confused with the blue variant), is a boss monster.
After the Dark Lord's attack on Greenhorne and theft of the Lovey-Dovey Woman's face, your party has to face this monster in Strange Grove. It's accompanied by two Smileshrooms when encountered there.
This type of monster also makes an appearance as a Travelers' Hub quest monster, as it looks the same (albeit with a Traveler's or Traveler's Friend's face) and doesn't have an individual entry in the Monsters section of the Journal. Its moveset is even the same, though it's significantly stronger, being a post-game encounter. This version is fought with either three Mice, four Fossils, or two Devilish Skulletons.
Appearance
It's a huge armless mouse with the Lovey-Dovey Woman's (Traveler's or their friend's in post-game quests) face attached to it. Its round ears, toeless feet and ball-tipped tail are orange. Its chubby, gourd-shaped body is yellow with light yellow belly marking.
History
Encounter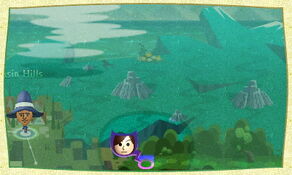 Once the the protagonist and their three teammates approach deep into the Stange Grove, the party will find the Lovey-Dovey Woman's face floating about, who is frightened about the situation.
Lovey-Dovey Woman: Aiiieee!
Her face will then be placed onto a big yellow mouse, who is then accompanied by two Smileshrooms. While the "Lovey-Dovey Woman" can attack one Mii along with the Miis adjacent to them, the Smileshrooms can also cause them to burst into laughing. Despite this, the party is able to defeat the mouse and its cohorts, saving the Lovey-Dovey Woman. She, along with the Lovey-Dovey Man, will celebrate the return of her face. Both of them thank the protagonist and give them three Game Tickets as a reward.
The Travelers' Hub quest variant can randomly show up in the end of a temporary dungeon, this time with the client's face. Defeating it will clear the quest.
Actions
| Action name | Description | Chance to use | Hit rate |
| --- | --- | --- | --- |
| Wide Attack | Deals damage to one party member and adjacent party members. | 100% | 100% |
| One More Time! (auto) | The mouse attacks again. | - | - |
Enemy Statistics
The "Lovey-Dovey Woman" Mouse is one of the Greenhorne bosses encountered sometime after the protagonist has recruited both their third and fourth teammates. The "Traveler" or "Traveler's Friend" Mouse however, is a randomly decided Traveler's Hub quest boss.
Lovey-Dovey Woman" Mouse

| Image | HP | Attack | Defense | Magic | Speed | Locations Encountered |
| --- | --- | --- | --- | --- | --- | --- |
| | 40 | 18 | 7 | 0 | 6 | Strange Grove |
| | 1300 | 154 | 88 | 0 | 71 | Temporary Dungeons (Rank I) |
| | 3250 | 325 | 98 | 0 | 103 | Temporary Dungeons (Rank V) |
| | 5500 | 372 | 175 | 0 | 140 | Temporary Dungeons (Rank VI) |
Trivia
It's simply named "Mouse" in the Japanese version, thus it shares the same name as the non-boss Mice.
Gallery
See also
Expand to see the full list of Mice :
No.
Image
Name
Location
114
Mouse
True Nightmare Tower (Greenhorne)
115
Wild Mouse
True Nightmare Tower (Greenhorne)
206
"Traveler" Mouse

(Blue)

Temporary Dungeon : Rank III, IV