This page uses data from the Miitopia Param Info spreadsheet, compiled by PibPasquale, Kobazco, and UglyFrenchFry.

The "King" Golem (Japanese: "Mii's name"ゴーレム "Mii's name" Golem) is a major boss encountered in Miitopia, possessing the stolen face of the King of Greenhorne shortly after the latter refused to believe the Dark Lord's existence. It is also the first major boss in the game. Additionally, the player can encounter a much stronger version of the same enemy in a Post-Game quest.
The Golem is a powerful enemy. Being made out of stone, it can unleash some of the strongest attacks in all of the game's enemies.
History
Summoning and battle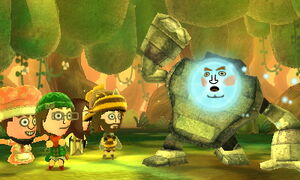 After the Hero warns the King about the supposed attack of the Dark Lord, the King simply dismisses it, seeing it as nothing but a "tall tale". The King, however, soon quickly changes his mind as his own face is stolen, being used to summon the "King" Golem. As the hero finds the stolen face, the King begs for them to help him as the battle begins.
In battle, the Golem is not too tough, although it has high defense and attack power. It's only attack is by punching members for high damage. After a short battle, the golem is soundly defeated, and the King is restored.
Post-game
Which Travelers' Hub quests that feature this monster seem to be completely random, so do the dungeon location and the quest rewards. It is fought alongside 2 Ancient Robots.
Actions
| Action name | Description | Chance to use | Hit rate |
| --- | --- | --- | --- |
| Attack | Deals moderate damage. | 100% | 100% |
| One More Time! (auto) | The Golem can move twice in one turn. | - | - |
Enemy statistics
"Mii" Golem

| Image | HP | Attack | Defense | Magic | Speed | Locations Encountered |
| --- | --- | --- | --- | --- | --- | --- |
| | 250 | 45 | 10 | 0 | 9 | Wayward Woods |
| | 4250 | 385 | 325 | 0 | 86 | Temporary dungeons |
Trivia
The Travelers' Hub version of the Golem has the highest Attack and the highest Defense among all monsters, or third highest for the latter if Rare/Very Rare Snurps are counted.
Gallery
See also