This page uses data from the Miitopia Param Info spreadsheet, compiled by PibPasquale, Kobazco, and UglyFrenchFry.

The "Friend from Nimbus" UFO is a boss monster that is first encountered during the very first Nimbus quest in the main story. Later, it can be found in one-time dungeons that only show up during quests.
Appearance
It is a light blue Giant UFO which is somehow even bigger. The Traveler's face is attached to this monster. Unlike the Giant UFO, this monster is light blue with blue details.
Quest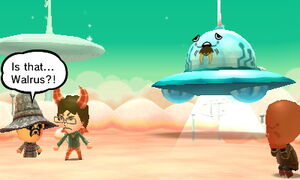 One of the first quests when the Travelers' Hub is first unlocked involves finding a Traveler's friend who ends up in Nimbus. It turns out that the Friend from Nimbus has their face stuck on this monster. During battle, this monster is accompanied by two Mecha Goblins.
After freeing the Friend from Nimbus, the protagonist asks them about the Darker Lord's whereabouts. Turns out they know about the villain as well as the presence of a giant tower in the sky, revealing its location on the world map.
The post-game quest variant can randomly show up in the end of a temporary dungeon, this time with the client's face. Defeating it will clear the quest.
Actions
| Action name | Description | Chance to use | Hit rate |
| --- | --- | --- | --- |
| Attack | Inflicts physical damage on one party member. | 70% | 100% |
| Erase Banana | Steals all HP Bananas held by a party member, permanently removing them from his/her inventory. | 30% | - |
| One More Time! (auto) | Activates after attacking to allow a second attack on a different target. | - | - |
Tip: All eight of the party's HP Bananas will almost certainly be stolen, as it is immune to status effects and is even stronger than a Giant UFO. Aside from that, it does hefty damage, so keep healed up; you do not want to have to rematch it.
Enemy statistics
This boss can also be encountered in post-game Travelers' Hub quests. Its strength depends on what quest level it's encountered in.
"Friend from Nimbus" UFO

| Image | HP | Attack | Defense | Magic | Speed | Locations Encountered |
| --- | --- | --- | --- | --- | --- | --- |
| | 1500 | 103 | 45 | 0 | 45 | Nimbus |
| | 1430 | 205 | 96 | 0 | 62 | Temporary dungeons (mid-level quests) |
| | 2070 | 205 | 140 | 0 | 73 | Temporary dungeons (mid-level quests) |
| | 5900 | 326 | 228 | 0 | 100 | Temporary dungeons (high-level quests) |
Gallery
See also
Other UFOs

| N° | Image | Name | Location |
| --- | --- | --- | --- |
| 133 | | UFO | |
| 244 | | Giant UFO | |