The Phantom of Evil (Japanese: 大魔王"Mii's name"の幻影 Ghost of Great Demon Lord "Mii's name") is a mid-boss that appears in Miitopia, being fought as the first boss of the Sky Scraper. As with other Sky Scraper bosses, the Phantom of Evil is a tougher version of an end boss from a previous world. In this case, the Dark Lord from Karkaton.
History
Summoning and battle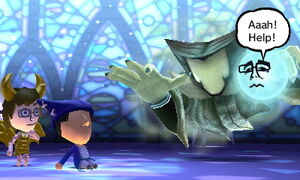 Within the Sky Scraper, the Hero has begun their quest to rescue the Great Sage, who had been possessed by the Dark Lord into the Darker Lord. To prepare for the Hero's arrival, the Dark Lord fortified the fortress with various monsters, including the Phantom of Evil, to defeat the Hero.
Upon the Hero's arrival, the Ex-Dark Lord will be shown, faceless and flustered. As the Hero asks about if they are OK, the Phantom of Evil suddenly appears, holding the Ex-Dark Lord's face. After having the face attached to it, the battle begins. In battle, the Phantom of Evil is simply a harder version of the Dark Lord battle in Karkaton, slamming his hands into other party members, luring them into nightmares, or creating a rockslide. Unlike the Dark Lord, however, it cannot summon Imps to assist it, and thus cannot steal the faces of other party members.
Actions
| Action name | Description | Chance to use | Hit rate |
| --- | --- | --- | --- |
| Attack | Deals physical damage to one Mii. | 40% | 100% |
| One More Time! (auto) | Allows additional action at the same turn. | - | - |
| Nightmare | Causes a Mii to enter a nightmare. | 30% | 100% |
| Magic All | Damages the entire party. (magic) | 30% | 100% |
Enemy Statistics
"Ex-Dark Lord", Phantom of Evil

| Image | HP | Attack | Defense | Magic | Speed | Locations Encountered |
| --- | --- | --- | --- | --- | --- | --- |
| | 2200 | 115 | 56 | 50 | 23 | The Sky Scraper |
Gallery
Trivia
Replica Dark Lord, Light Lord, Phantom of Evil, and the Dark Lord share the same color hierarchy as the Imp family line, corresponding to their respective implied strengh:
See also
Community content is available under
CC-BY-SA
unless otherwise noted.