This page uses data from the Miitopia Param Info spreadsheet, compiled by PibPasquale, Kobazco, and UglyFrenchFry.

"Desert Celebrity" (Japanese: 名画「Mii's name」 Masterpiece "[Mii's name]") is a boss monster. It is one of the enemies that must be defeated to claim a Neksdor Jewel and access the Great Pyramid's boss.
This type of monster (albeit with a Traveler's face) also makes an appearance as a Travelers' Hub quest monster. Its moveset is identical to that of the first "Desert Celebrity," though it is significantly stronger.
Appearance
It is a floating painting of Fine Wind, Clear Morning. The painting is framed with a brown frame. The Desert Celebrity's (Traveler's or their friend in post-game quests) face is attached to the "mountain" part that is depicted as Mt. Fuji.
History
Encounter
After the Dark Lord's attack on Neksdor Town, the player has to recover the stolen faces that are scattered around Neksdor. One of the town's residents, the Desert Celebrity, has her face stuck on this monster. This monster can be found in the Underground Maze. Defeating it will free her face.
Post-game encounter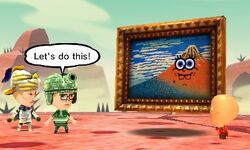 The Travelers' Hub quest variant can randomly show up in the end of a temporary dungeon, this time with the client's face. Defeating it will clear the quest. It is fought alongside a Giant UFO.


Actions
| Action name | Description | Chance to use | Hit rate |
| --- | --- | --- | --- |
| Attack | Inflicts physical damage to one party member. | 70% | 100% |
| Magic All | Inflicts damage to all party members. (magic) | 30% | 100% |
| Gaze (auto) | If this skill triggers, makes the attacker appreciate the user instead of performing a regular attack, causing the user to counter attack in response. | 30% | - |
| One More Time! (auto) | Activates after attacking to allow a second attack on a different target. | - | - |
Enemy statistics
"Mii" (Painting)

| Image | HP | Attack | Defense | Magic | Speed | Locations Encountered |
| --- | --- | --- | --- | --- | --- | --- |
| | 350 | 34 | 15 | 13 | 9 | Underground Maze |
| | 3730 | 340 | 165 | 148 | 98 | Temporary dungeons |
Gallery
See also