In Miitopia, you face against many monsters created by the Dark/Darker Lord. Each one has a stolen Mii face that's attached to it, and when you defeat one, the face flies away! At least, this is true with MOST enemies! When you defeat the Dark Sun however...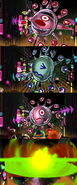 It just explodes! No face flies off, neither does the Face Rescue Counter go up!
This is NOT normal because even Evil Sage shows a rescued face fly off when defeated!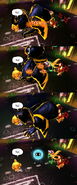 So what does that mean?
The Dark Sun can't just have been some random Monster that got a stolen Mii face attached to it because none are shown recued when you defeat it! Was the Dark Sun even created by the Darker lord? It can be showed calling out other Monsters with stolen Mii faces on it, like "Medal".
So the Dark Sun does have some control over Monsters that Do have stolen Mii faces on it.
The big question is, If the Dark Sun isn't made by the Darker Lord, then what is the Dark Sun actually meant to be?
(edited by JonahBoris)